CHESTER MIDSHIPMOUSE TIME AND TIDE is now available!
New release! Order the deluxe hardcover color edition now: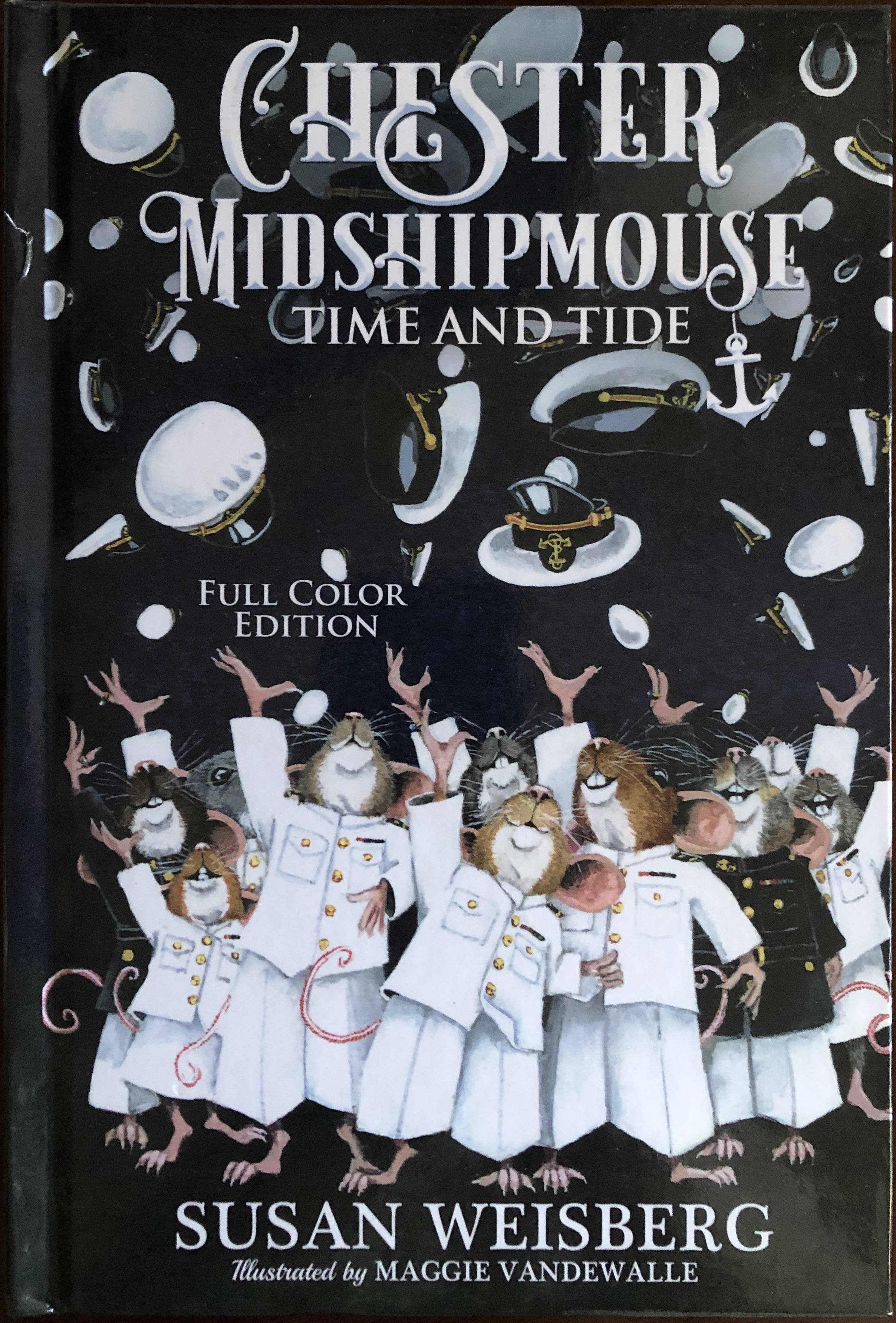 Brass Button Books. 352 pages, with illustrations by Maggie Vandewalle
Midshipmouse First Class Chester and his band of rodents are tail-pumped to graduate from the Naval Mouse Academy and commission as officers in the fleet or the Corps. It is simply a matter of finishing strong in their final year of training, staying on top of the game, and achieving their goals at service and ship selection. Piece of cheese.
But when the academic year begins, troubles crop up like mouse traps, and their leadership skills are put to the test. Chester's attempts to help a plebe overcome failing grades and a youngster avoid expulsion are interrupted when a dangerous predator takes up residence on the Yard and the situation becomes dire. Who knew the call to serve as warriors would arise so soon?
Unaware of the midshipmouse training program, human midshipmen in the rooms below balance rigorous responsibilities with duties while giving one last push to rid their quarters…of mice.
Then the unthinkable happens and an unforeseen obstacle threatens Chester's own dreams for the future.
Though the needs of the Navy come first, both brigades of mice and mids keep fingers and claws-crossed that three years of hard work will pay-off at service selection.
Who gets their first choice, and who does not? Who earns their dream to weigh anchor on the salty sea and who will dive to the depths? Who will pursue their wings of gold, and whose fur is shaved bald between the ears?
Time and tide will tell.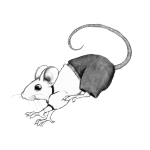 CHESTER MIDSHIPMOUSE THE SECOND THIRD deluxe hardcover color edition is available here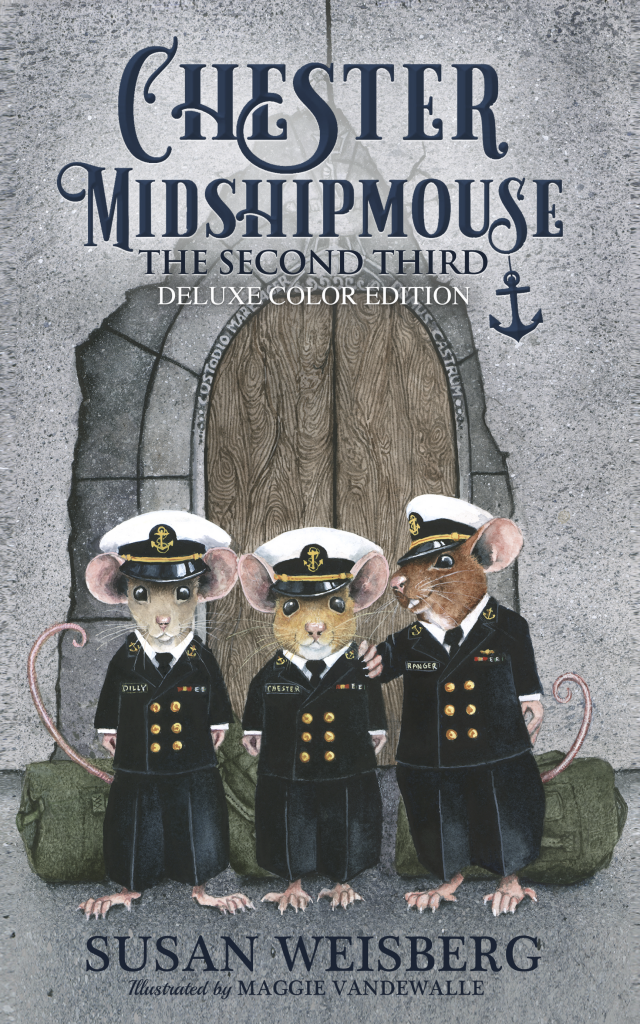 Brass Button Books. 384 pages, with illustrations by Maggie Vandewalle
Young house mouse Chester has big dreams to follow in his grandfather's pawsteps as a midshipmouse at the prestigious Naval Mouse Academy.
But the notorious first year of training gets off to a rocky start when unexpected hurdles threaten to derail Chester and his band of rodents. No plebe mouse wants to be the weakest link, and Chester is determined to succeed. Unfortunately, his well-planned efforts are soon turned topsy turvy by a flotilla of dangerous foes, and one of them wants him gone.
As Chester strives to navigate the epic journey of plebe year, human midshipmen in the rooms below also pursue their own rigorous training. The parallel lives of mice and men spiral ever closer together until their worlds clash, creating far-reaching consequences. High standards of honor, courage, and commitment are put to the test. Will Chester risk it all to right a wrong?
Stretched to the limit, Chester questions whether his friendship with his shipmates, heaps of dry breakfast cereal, and the occasional butterscotch crumble will provide enough steam to keep them all going through the dark ages of plebe year—The Second Third.
"In the proud tradition of The Rescuers and Redwall comes Chester Midshipmouse, Susan Weisberg's terrific new entry in the 'mouse hero' genre … I absolutely loved the book." – Scott Tomasheski, co-author of The Herndon Climb: A History of the United States Naval Academy's Greatest Tradition.
"Weaving together a realistic glimpse of life at the Naval Academy with a loveable hero you can't help but root for … You'll find yourself eagerly anticipating … Chester's next three years." Karl Smith, author of Anchored in Tradition.
Purchase the book in paperback with eight black and white interior illustrations on Amazon, Barnes & Noble, Bookshop.org and other fine bookstores.
Black and white edition on Amazon HERE.
Full Color edition on Kindle HERE.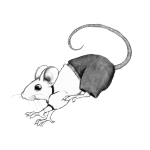 CHESTER MIDSHIPMOUSE is available on Amazon
Purchase the special full color edition HERE.
Purchase the standard edition HERE.
Brass Button Books. 248 pages, with illustrations by R. Leigh Anderson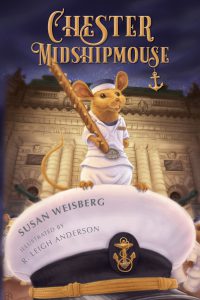 Behind the walls of the US Naval Academy's massive hundred-year-old stone dormitory, a select community of mice undergo their own rigorous military training program. A tawny-coated mouse named Chester gets the call to serve when his dim-witted cousin accidentally starts a fire by chewing through a wire in the wall. Impressed with the confident, efficient, noble midshipmice who respond to the emergency, Chester vows to join the Naval Mouse Academy.
Unfortunately, an injury and a close call with the notorious "water rat" leave Chester at the bottom of the academy's list of candidates. But with support from his family, including his veteran grandfather, Chester puts in night after night of "toilet training" (healing his wounds while learning to swim) and barely makes the cut.
This charming story follows Chester and his comical nest mates, as well as their unsuspecting human counterparts in the "Rooms Below" the rafters, as they endure the rigors of the legendary Plebe Summer. Even though the humans consider the mice pests rather than comrades, they share the same joys and challenges as they overcome adversity, escape catastrophe, and learn life's lessons of friendship, teamwork, leadership, courage, duty, honor, and service to others.